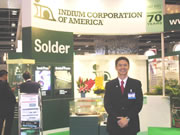 Indium Corporation will exhibit at Nepcon Shanghai Electronics Manufacturing Technology
China
on April 12-15, 2005.
Indium's exhibit will feature advanced technologies in Pb-Free electronics assembly with cutting edge materials. Their offering will span a full range of PCB assembly materials, including solder pastes, wave solder fluxes, rework materials, and solder fabrications such as solder preforms, solder ribbon and wire, and solder spheres.
Indium will be exhibiting at booth #2J16. Experts will be readily available at the booth to answer questions on Pb-Free assembly. Technical papers, articles, and other information will also be available.
Nepcon Shanghai is the largest electronics manufacturing event in China and provides an opportunity for global equipment and material suppliers to reach out to electronics manufacturers in China, especially in Shanghai, where major electronics high-tech manufacturing companies are located.
Indium Corporation is a three-time Frost & Sullivan Award-winning supplier of electronics assembly materials, including solder pastes, solder preforms, fluxes, Pb-Free solder alloys, underfill materials, die-attach materials, and more. The company is also the world's premiere supplier of commercial grade and high-purity indium. Factories are located in North America, Europe, and Asia. Founded in 1934, the company is ISO 9001 registered.


For more information on Pb-Free electronic assembly or Indium Corporation, visit http://www.pb-free.com/ or http://www.indium.com/ , or email mailto:askus@indium.com.